Portable toilet hire Scotland ~ Construction industry loo rental ~ Building sites loo hire
Construction
Portable toilet hire for construction sites in Scotland
We provide weekly service portable chemical toilets for the construction industry.

At Loo King, we offer self contained, flushing portable chemical toilets complete with wash basins for use on construction sites. All our units are HSE compliant, and include a full forearm wash basin with an optional warm wash facility by means of 110v/300w water heater.

Where mains toilet facilities are required we can provide single or multiple units complete with sockets for mains power supply, water heaters and lights with mains water/sewage connection.

If mains water or sewage connection is not possible we can provide 250g IBCs complete with 110v lift pumps and 1000g waste holding tanks. Our waste management division can also provide freshwater refills and waste tank empties as required.

If space is tight or for high rise construction sites, our "Lug-It" units provide a light, portable and cost effective solution to your sanitary requirements.
We provide a full range of construction site sanitation services: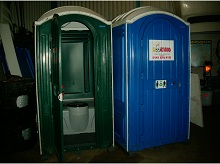 Portable chemical toilets

Mains toilet facilities

Toilet blocks

"Lug-It" units

Waste holding tanks

Waste tank empties

Freshwater refills
Why choose Loo King for your construction site toilet hire?
Over 25 years' industry experience

High levels of customer care

Environmentally friendly chemicals

Emergency call-out

24 hour, 365 day a year service
We have 25 years' experience of providing sanitation systems for construction sites and major events. Loo King is SEPA registered and is a member of PSE.
Chemical toilet hire Scotland ~ Construction industry loos for hire ~ Building site toilet hire